NOÉMI LANCELOT
Antiperformances
Antiperformances
presents some Noémi Lancelot's statements binded together in a notepad with releasable sheets.
In her short film
En finir avec l'Art
(2021) - literally Get Art over with - Noémi Lancelot lays the foudations of her anti-practice. « How can we produce an object that speaks about get over with production? » That's the question the artist asks to someone on the phone, before talking about giving up art, following her studies of artists who gave up during their career.
Directly inspired by Lee Lozano's
Language Pieces
, Antiperformances brings together protocol-like texts that follow one another like proverbs about what the artist does not do in the art world: an invitation to think action through negation. The book - which is not really one - shows commitment as an artistic practice, interrogates the medium and the institution with no moralism: it's as much fiction as documentary. If a single question had to sum up this publication, it would be: how to be an artist today?
Each text is written as a sworn statement, giving precision on Noémi's thoughts, to affirm the radicality of her posture against the system. What she does not do - she attests on her honor - forms her practice and identity. Statements are printed on the back of a page, so the notepad appears empty of any content when opened in the right reading direction. Lectors have to lift the pages to read it. Through its shape as well as through its words,
Antiperformances
tends to be a critical object that criticize its own performative utterance.
PAGES

60


FORMAT


20 x 28cm



PUBLICATION DESIGN


Thomas Ducrocq


TRANSLATIONS


Jana Kassem


BINDING


MG Pernes-les-Fontaines


FONTS
Authentic Sans
(Christina Janus, Desmons Wong)
PAPER


Soporset Premium 110g




Maya 185g



EX-LIBRIS
Risographie 3 couleurs
Munken Print White 150g
16 x 23cm

ISBN 978-2-493892-11-9
©postfirebooks
©Noémi Lancelot
---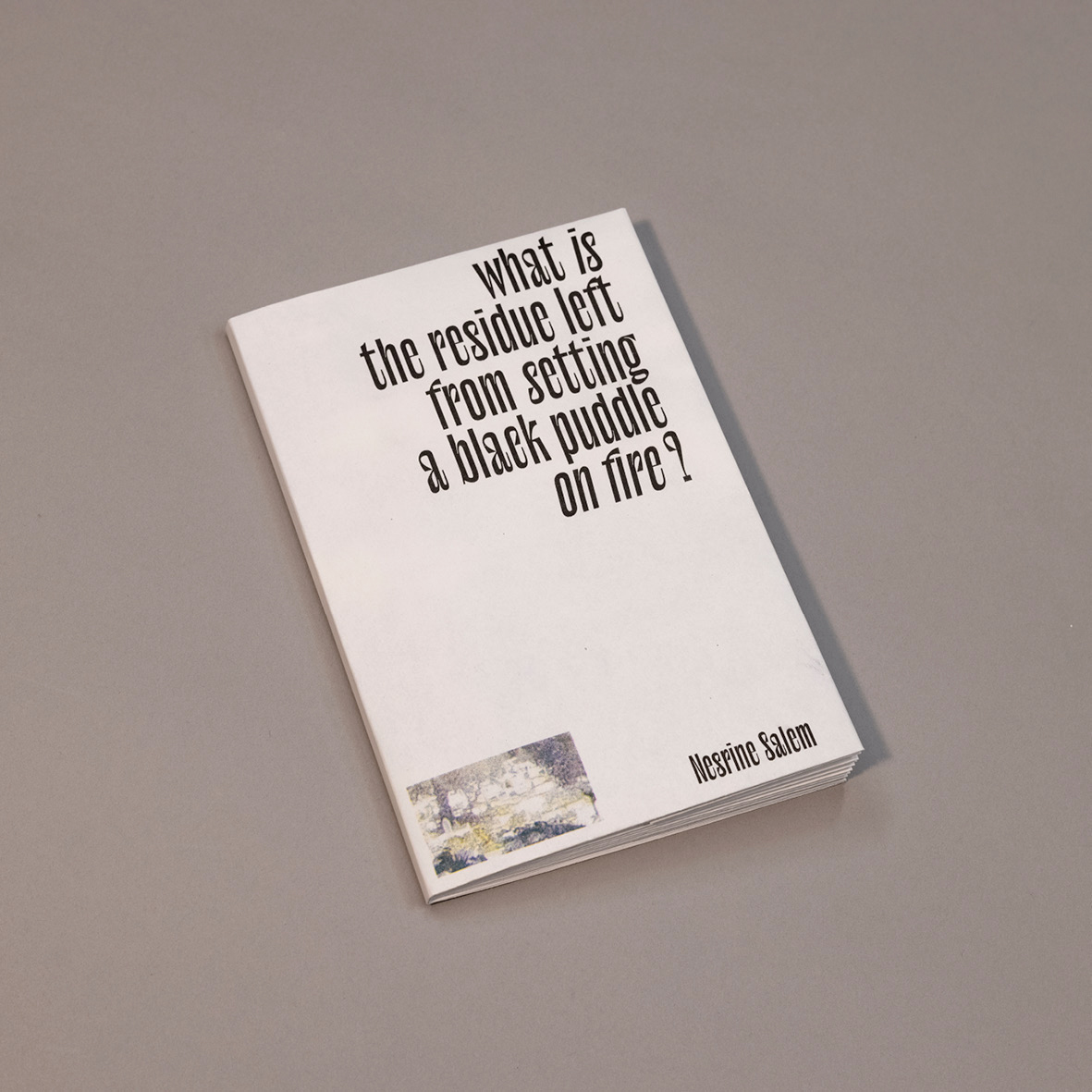 NESRINE SALEM
what is the residue left from setting a black puddle on fire?
This book gather eleven poems from the short film
What is the residue left from setting ablack puddle on fire?
(2023)
The texts are published in their original english versions, as well as in their translation into algerian dialect and french. The original version of each monologue is printed on the front of a bellows inside which are placed two cards, one for each translation.
Foldings and bellows makes polyglossia visible and allows the three languages to coexist, to be manipulated freely, making the reading experience more immersive.The book thus proposes to integrate readers into the intimacy of the subjects.
SHOWS
7/04 ︎︎︎ 15/10


En attendant Omar Gatlato - Épilogue
Regards sur l'art en Algérie et dans sa diaspora
︎CNAC Magasin, Grenoble
18/03 ︎︎︎ 16/07
Les Sillons
#1
︎CAC La Ferme du Buisson, Noisiel
PAGES

32

FORMAT

13 x 20cm

PUBLICATION DESIGN

Thomas Ducrocq

GRAPHIC DESIGN

Louise Dib - Chimbo

TRANSLATIONS

Fatiha Salem
Salah Chikh
PROOFREADING

Anne-Sarah Huet

PRINTING

Atelier de l'ENSAM
Montpellier

BINDING

Juli Savoie
Thomas Ducrocq
PAPERS

Munken Print Rough 100g
Evercopy 80g
ACTRESS
Chaima Boumaaz
SOUND DESIGN
Zoé Leber
VFX 3D
Igor Dubreucq
ISBN 978-2-493892-08-9
©postfirebooks
©Nesrine Salem
---
SAM KRACK
Artemis - Traces de vie
Artemis
sleeve tells the story of the apartment Sam Krack occupied when he was an art student, a place from which he drew an entire practice, playing with administrative codes and mise en abyme. The publication follows a serie of paintings on canvas and their moves from an exhibition space to another.
"Sam Krack enters his apartment in 2019 and the real estate agency produce an inventory. Kind of an exploration for that place, looking for traces of life that are described in the inventory in a pictorial way - "chipped on the side, patched inside and out, yellowed, warped, rough joints" - starting point of a meta-work which will develop over three years [...]"
Artemis
contains : 18 reproductions of Sam Krack's paintings (3 colours risoprinted), a copy of the entry inventory, an index of paintings, a text by Pauline Faure and a a photobook presenting the canvas exhibited in the apartment during the inventory exit facing fake pictures of people visiting the place.
40€
SHOW
23/03 ︎︎︎ 26/03


Artemis - Traces de Vie
︎Le Cyclo, Sète
FORMAT

23 x 32cm
SLEEVE CONTENT
︎︎︎18 RISO prints
︎︎︎Entrance inventory
︎︎︎Exit inventory (shutterstock book)
︎︎︎Room plan (index)
PUBLICATION DESIGN

Thomas Ducrocq
Sam Krack
TEXT

Pauline Faure, curatrice
PHOTOS
Samuel Goueset (Prises de vue coffret)
Pauline Rosen-Cros
(Exposition Trans(m)issions - MO.CO.2022)
THANKS TO

José Sales-Albella, Pauline Faure
Thanks to Hubert for his unwavering support. Not thanks to Artemis - Solutions immobilières (for not give the deposit back)
PRINT

Atelier Karbone Éditions
Montpellier

BINDING
Thomas Ducrocq
Sam Krack

PAPERS
Munken Polar White 240g
Munken Print White 80g
Evercopy recyclé 80g
Gloss 135g
ISBN 978-2-493892-07-2
ISBN 978-2-493892-06-2
©postfirebooks
©Sam Krack
---
En attendant Omar Gatlato - Épilogue
CNAC Magasin, Grenoble, Avril 2023
(photos : Karine Marchand)
ARTEMIS - Traces de vie
Le Cyclo, Sète, Mars 2023
(photos : Julie Legrand)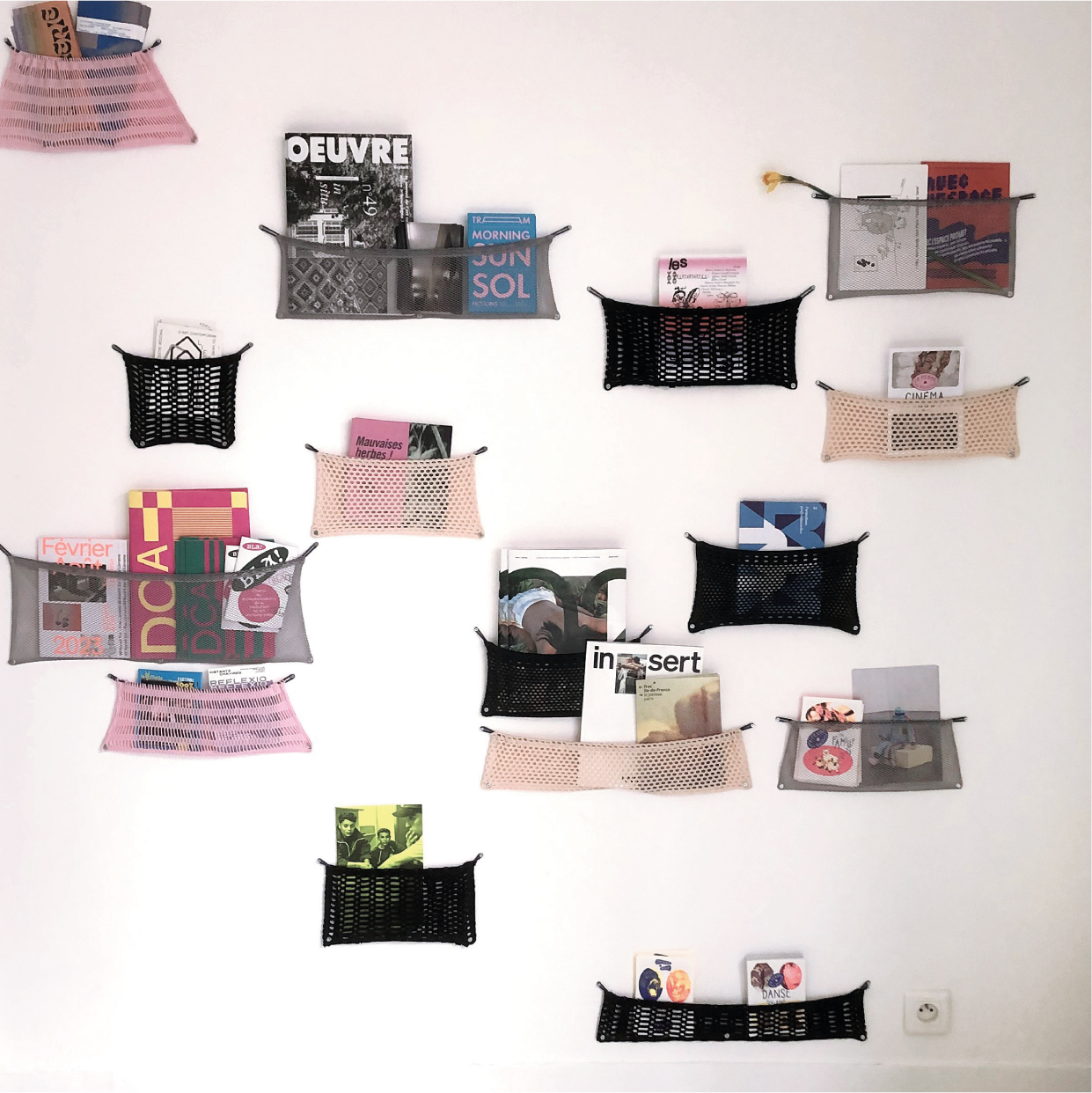 Les Sillons #1
CAC La Ferme du Buisson, Noisiel, Mars 2023
---
02.11.23 ︎︎︎ 12.11.23
IMPRESSIONS MUTANTES_LES ATELIERS DE LA VILLE EN BOIS_NANTES
15.09.23 ︎︎︎ 15.10.23
BYOB FAIR
_ENTER ENTER_AMSTERDAM
01.09.23 ︎︎︎ 03.09.23
INDIECON
_OBERHAFEN_HAMBURG
07.07.23 ︎︎︎ 09.07.23
ZINEFEST
_MARCHÉ DES DOUVES_BORDEAUX
30.06.23 ︎︎︎ 02.07.23
FANZINES?FESTIVAL
_ATELIER NON-ÉTOILE_TOUR ORION_MONTREUIL
02.06.23 ︎︎︎ 04.06.23
GRAPHIC BAZAAR
_EN TRAIT LIBRES_MONTPELLIER
26.05.23 ︎︎︎ 29.05.23
FANZINEIST VIENNA
_SEMPER DEPOT_VIENNE
06.04.23 ︎︎︎ 15.10.23
EN ATTENDANT OMAR GATLATO
_CNAC MAGASIN_GRENOBLE
23.03.23
ARTEMIS-TRACES DE VIE
_LE CYCLO_SÈTE
18.03.23 ︎︎︎ 16.07.23
LES SILLONS #1
_CAC LA FERME DU BUISSON_NOISIEL
---